Dentist in Pahrump
Albert G Ruezga, DDS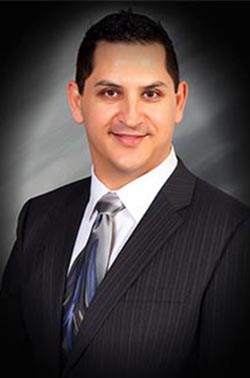 Dr. Albert G Ruezga grew up in a small farming community in Hilmar, California. He attended college at California State University Stanislaus where he obtained his B.S. in Biological Science. Dr. Ruezga received his Doctor of Dental Surgery degree from the University of California San Francisco School of Dentistry in 2001. While at UCSF Dr. Ruezga won the International Congress of Oral Implantologists Award as well as the Northern California Academy of Endodontics Student Award. Dr. Ruezga acquired Pahrump Family Dental in 2005 is committed to excellence by providing compassionate care in a state of the art facility. He is a member of the American Dental Association, Nevada Dental Association, Southern Nevada Dental Society.
Dr. Ruezga is very passionate about his chosen profession and enjoys volunteering his talents to multiple outreach programs including Nye Country Coalition and Remote Area Medical Volunteer Corps. He has traveled to remote areas of the world (Mexico, Egypt, Cuba, China, Costa Rica, Jamaica) and enhanced individuals lives by treating people in need and promoting health through good oral hygiene.
On his free time Dr. Ruezga enjoys spending quality time with his wife, Brandi and their three amazing children (Sky, Gus, Tre). His hobbies include traveling, fishing, hiking, scuba diving, snorkeling and ATV's.